He may not win the laurels, nor trumpet tongue of fame,
But beauty smiles upon him, and ranchmen bless his name.
Then here's to the Texas Ranger, past, present, and to come,
Our safety from the savage, the guardian of our home.

A frontier housewife - 1892
The past has finally caught up to the present and the 2010 Texas Ranger Commemorative knife from AG Russell has arrived. I received my 2010 from Phil Gibbs earlier this week and have been putting it through some trials. First impressions were much like the ones I had when I opened up the 2009 knife...this thing is BIG. Like the men it commemorates it is larger than life, a knife for a man who knows he is a man. (metrosexuals need not apply) In the hand it is a solid 10 ounce chunk of steel and ebony Rucarta. The handle is 4 5/8th long and 1 1/2 inches wide at the swell. The blade, made from 8Cr15MoV, is 3 5/16ths, an astounding 1 1/2 inches wide, and just a couple hundredths shy of being 1/4 inch thick. This is not a knife that apologizes for being a knife in today's politically correct world. It fills the hand and inspires confidence much as the Paterson Colt inspire confidence in those who used it to tame the Texas outlaws.
The large nail nick is the same as the one on the 2008 knife. It is large and deep enough to allow the blade to be thumbed open as you can see in the short video below. I have average sized hands and you can see just how well this knife fills them.
http://www.youtube.com/watch?v=drKRD9F0pk8
The large grip of this knife allows for a very secure grip, I used it to make a fuzz stick and never got the cramping in my hand that I can get from trying to hold onto more slender knives during a extending cutting session. It also allowed for a full grip when I cut a hanging 3/4 inch manila rope. It does not try to turn in the hand and feels as comfortable to me as the grip on my Ruger Blackhawk.
The Belt pouch is a work of art on it's own. Designed for this knife by Bob Dozier, it is both great looking as well as a very secure way to carry the knife. And on days you don't carry the knife it easily will carry a spare magazine for your 1911. The pouch will handle a 1 3/4 inch belt and rides centered on the belt, very comfortable to wear.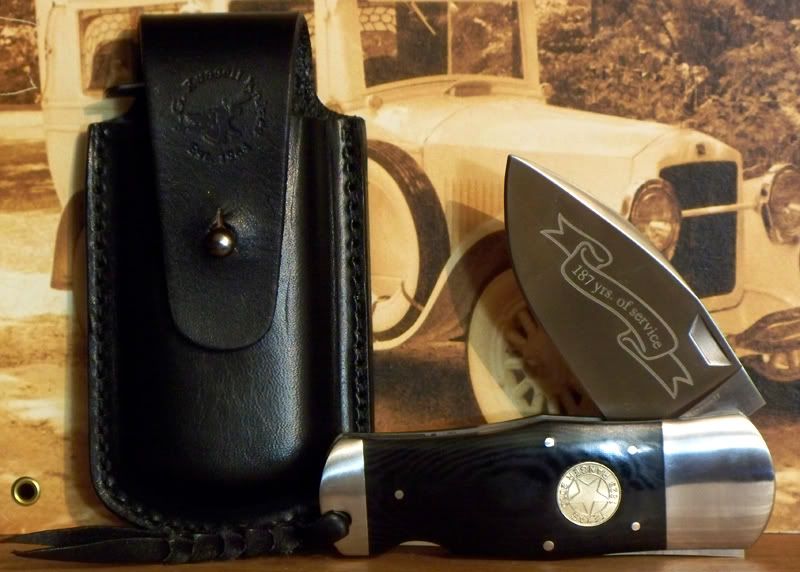 Fit and finish...what can I say, this knife lived up to my expectations. After seeing the excellent fit and finish on the 2008 and 2009 knives I was sure the 2010 wouldn't disappoint and it didn't. Everything fits square and true, the fit between blade and lock is near perfection. It also arrived shaving sharp with an extremely smooth edge. To the thumb it didn't feel as sharp as it is but the bare patch on my arm proved otherwise.
Of course this thread would be useless without some pics so I am going to shut up and let the knife talk for a bit.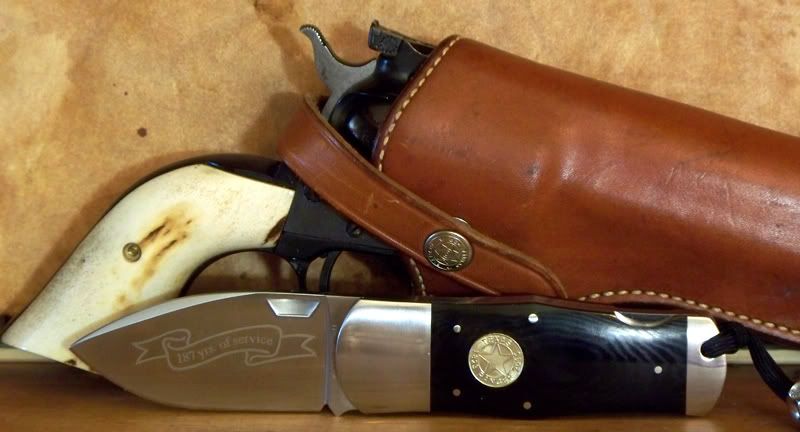 And here are all three...2008, 2009, and 2010. I am already looking forward to the next in the series. I am sure it will be as exciting as these three have been.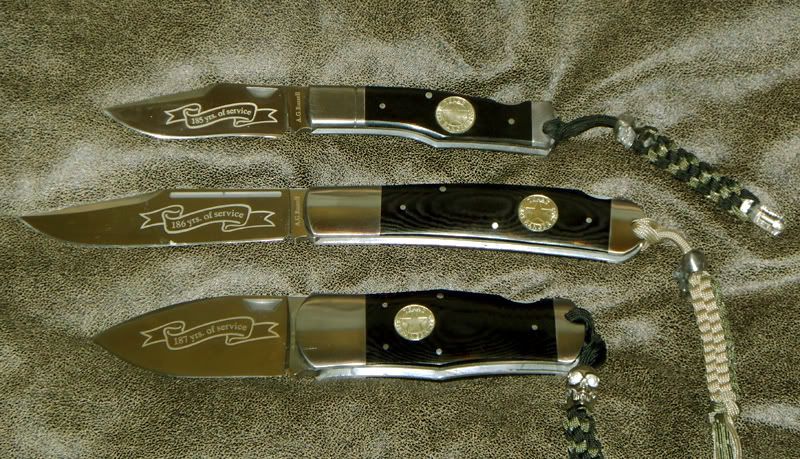 There are only 1000 of each year being made, the 2008 sold out quickly, I think a few 2009 knives are still available, tho Dad hasn't gotten his yet, and the 2010 just hit our shores and the AG Russell website. I wouldn't wait too long to order one if you want one...I don't think they will last long.